About Us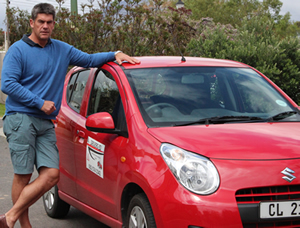 Drivers Ed Driving School was started in 2010 where a demand for patient, reliable, and vehicle comfort became evident with learner drivers. Over the years word of mouth has led extensive business in our direction, which on its own, is a good reflection of our professionalism and what we offer, as well the loyalty of the customers that we have assisted. Driver instruction has extended business to the Boland area, with services that are also offered to corporate companies. Somerset West, Strand and Gordon's Bay driver requests are slowly increasing as our reputation develops.
Andrew Brittz is the owner of Drivers Ed, and has been involved in service orientated businesses throughout his career. This lends itself well to the patience required when the nervous learner driver places themselves behind the driver's wheel. Instilling confidence in the learner driver to believe that they are competent, repetitive practice, as well as instilling knowledge on the K53 system, are the fundamentals in ensuring a driver's license pass. Success rates with Drivers Ed have only been impressive.
Andrew Brittz is a qualified driver instructor, who is committed to guiding individuals to become safe users of our roads.